According to their website HintHunt is the
"Best Escape Game in London"
– this is quite a statement but as I had never done an Escape Room before it seemed to obvious that I would need to try it out for myself.
Located on Eversholt Street, almost directly opposite Euston Station, HintHunt is easy to get to and ideally located for many other areas of London.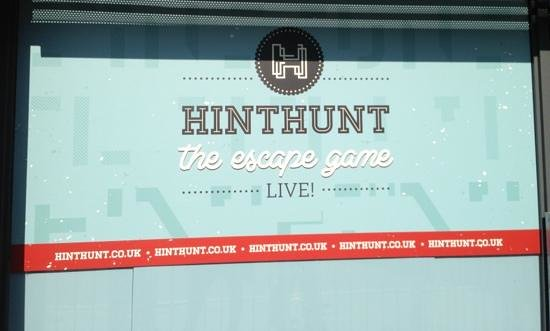 Five rooms make up HintHunt, with two themed rooms, photography is prohibited and in the style of The Mousetrap leaking any details about the rooms is frowned upon.
After the introduction and the rules have been explained you will be lead into your particular room, the door will be locked and a countdown clock will appear on a small TV screen on the wall. You and your teammates have one hour in which to solve whatever mystery fits that room.
Each room is loaded with clues, riddles, hidden keys and keycodes which all need to be found in order to solve the ultimate puzzle and unlock the door releasing you from the room.
Be warned, some of the clues are actually red herrings.
Don't worry, if you don't make it out within the hour, you will be released, just without the glory of a satisfying outcome.
So what do you need to complete HintHunt? A sense of fun is essential, as is an attention to detail, good communication skills. If at any point you get stuck (and you will) handy hints will also appear on the screen to help you out.
FYI: Cameras in the room allow the staff at HintHunt the amusement of watching you struggle.
Don't worry, they do promise not to post it anywhere online.
This is not a cheap activity, bookings are made according to the size of the group, with a minimum of 3 people per group and a maximum of 5. For a group of 3 you will find that it works out at roughly £25 per person, however this goes down if your group is larger. A group of 5 will work out at roughly £20 per person.
As I said, HintHunt is not a cheap activity, especially as it really does only last for an hour. I would still definitely recommend it for a work event or for a birthday celebration, and why not make a day of it by heading next door to The Prince Arthur for a drink and some food (it is also a B&B if you're in need of somewhere to stay nearby)
On a side note: Our group escaped the room with 1.49 to spare.
You can book your tickets here
Disclaimer: The ticket for this was included as part of the Traverse week of events.