I love visiting London but finding affordable accommodation is often a major struggle, so after some serious searching I checked in to the Sidney Hotel, London.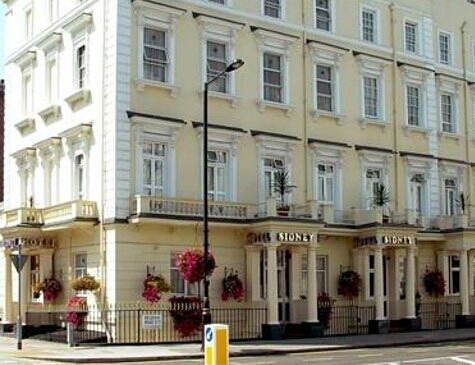 Location
Just a 15 minute walk from  Victoria Station, in the Pimlico area, on Belgrave Road is the Sidney Hotel. There are over 20 hotels on this road alone and due to it's proximity to the Station it is a very popular area with tourists.

Amenties
Arrive early, leave your luggage and go and explore the area.
Once in your room (I booked a single) you'll be able to enjoy a simple, pleasant room, with simple but perfectly decent extras, from tea and coffee to a small ensuite with toiletries. Being a single room, it was small, with very basic furniture, but was comfortable and suited me for my stay.
In the morning, head downstairs for a continental breakfast; toast, jams, croissants, yoghurt, cereals, juices and unlimited amounts of coffee.

Price
I paid £138.00 for two nights, which for London I thought was actually very reasonable. I was even more impressed with my booking when I arrived and found that the walk-in price for that night alone was £215.00!!! (Win)
Review
I'll admit I'm always a little a little disappointed by continental breakfasts. When I'm at home I'm usually happy with toast, but when I'm away I do love a hot and cold buffet breakfast (obviously, who doesn't) – Don't get me wrong it was a pleasant breakfast, but I would have loved to have started my mornings with some bacon.
The rooms was small but perfectly fine for a short stay and the Sidney Hotel, London is in such an ideal location that I really couldn't find any faults.
This is a hotel where I would definitely recommend staying, but also make sure you shop around to find a good deal. You can find reviews and prices here.
*
Have you stayed at the Sidney Hotel?
Have you ever stayed at any of the other hotels on Belgrave Road?
Which would you recommend?